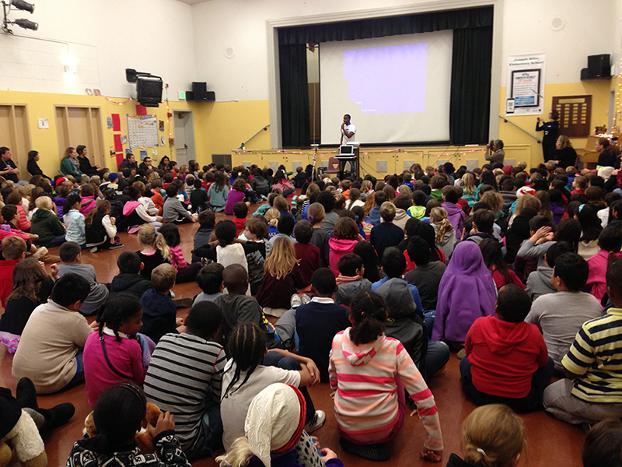 Give your students and kids the edge in the classroom/program with a presentation that's sure to have them striving to do better personally and academically. The author incorporates reading, writing, natural science and an anti bullying message in his dynamic presentation. It's rare to find an Author's presentation that seamlessly combines so much into one appearance. Send us a message via the contact page for more information. Scroll down to read reviews from your peers about this Bay Area native's presentation.
It was truly inspiring for our students to meet Mr. Robinson!
Not only did they love his book, but Mr. Robinson's own story of curiosity, perseverance and effort provided them with inspiration and a stronger belief in themselves.


-Dr. Shirley Clem, Principal of Otis elementary
This was the best assembly I have been to. James Robinson was so relatable and sincere with the kids. His sharing about overcoming life's struggles was deep and inspirational. His advice to our young people was sincere and uplifting. His connection to Peter the Pelican was heartwarming and inspirational. He was engaging, honest, sincere, and inspirational. I wish he could teach at Maya Lin School. The audience was enraptured and enchanted as he read chapter 3 of his book A Bird's tale.
-Sarah Cruz, 5th grade teacher Maya Lin elementary
We loved the experience and feel blessed to have you attend. You inspired the little guy who spoke with you. There was another little guy in the audience who also has dyslexia so you showed him first hand that even dyslexia can't stand in your way when you have a dream.
-Mrs. Aisling Harvey, 4th grade teacher of Bay Farm elementary
James is what every principal loves to see in a visiting artist: a great balance between entertainment and education. Kids are authentically engaged, carefully drawn in to the story, leave knowing more than when they arrived, and with a smile on their face.
-Knoth, Jeff of Lum elementary
James related very well to our Kindergarten students. He was able to keep 75 of them engaged and excited during his presentation. they were thrilled to meet a real life author and to learn about pelicans.
Olivia Udovic, Kindergarten teacher of Manzanita SEED
Many teachers came to me to say how much they enjoyed your presentation. You are a gifted storyteller, both fiction and your own life.
-Cindy Gullikson, Librarian Joaquin Miller elementary
The multimedia portion of the presentation was very effective, along with the connections to Lake Merritt. That helped build understanding and personal relevance for the students.
-Mr Fong, 5th grade teacher of Lincoln elementary
James Robinson's presentation was incredibly fun and informative. My students have a strong connection to Lake Merritt, and reading Peter's story in A Bird's Tale gave them a whole new perspective on the East Bay ecosystem!
-Emily Juarez, 3th grade Teacher of Melrose Leadership Academy
I really appreciate that you mentioned your learning challenges to the students. I have several students who have learning challenges and this reinforces the hard work they are doing. One mother let me know that her child came home and told her how successful you were in writing a book even though you have dyslexia. It seems that parents and teachers can let students know how successful they can become, but it takes a person who has walked in their shoes to help them understand that the hard work they are doing will pay off.
Your presentation was fun, very informative, and totally engaging for me and my students. They were inspired by the ecological information you shared, as well as your own literary journey. Above all, your warm, open personality enabled a comfortable learning environment to think deeply and connect with you.
-Mr Alex Kane, 5th grade teacher of Park Day elementary
Thank you soooooooo much for yesterday! You did an amazing job! The students were mesmerize - amazing!
-Lily smith, superstar literacy
Your presentation was highly engaging and I loved that you showed them that writing is a long process, not a quick easy task (that's something we're working on with our 5th graders right now). I also really appreciated how open you were about your own struggles with writing in the past
-Lindsay Zika Head Royce 5th grade teacher elementary
I observed a very engaging, student-centered presentation that captivated our fourth grade students' attention not only because of the presenter's youthful energy, humor, and command for respect but it was also the multiple techniques used to appeal to their various learning styles. Within 45 minutes our students experienced a colorful power point presentation of slides used to illustrate the story of a wounded and lost bird and his journey toward becoming self-sufficient, the impact and reliance birds have on the environment, the presenter's personal story about being a struggling reader who never imagined he would ever write a book, and a final assessment in the form of a Jeopardy game really got the students thinking and participating because they knew the answers and were rewarded with prizes.
-Dr. Cheryl Wilson, Principal of Ruby Bridges elemen

tary